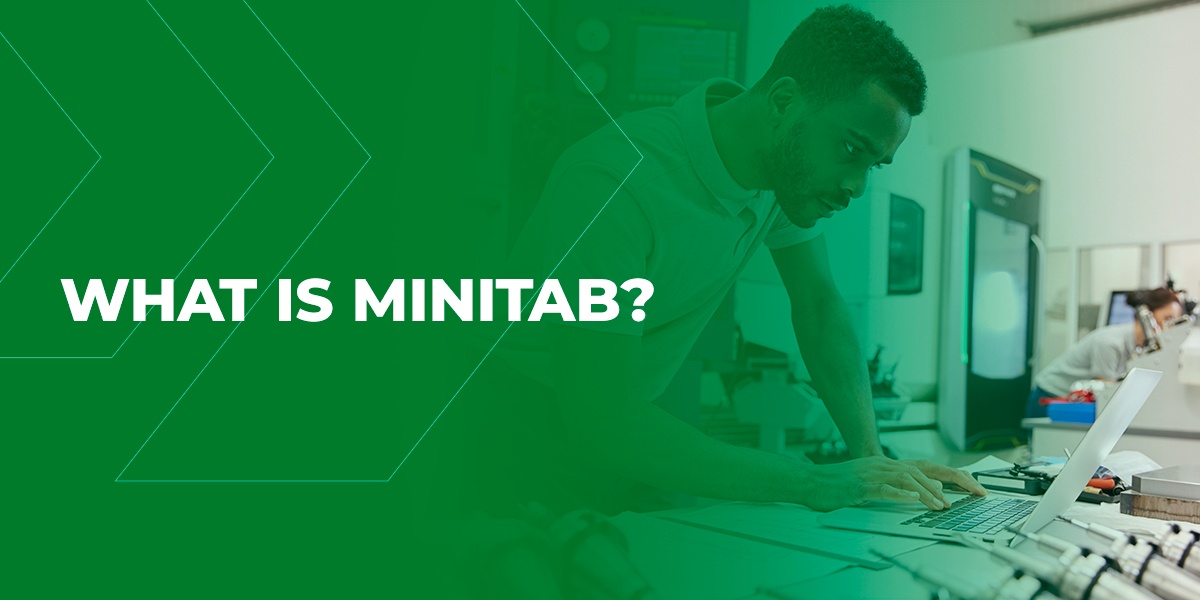 When your company needs to make reliable process improvements, statistical tools can provide the insights you need for success. Minitab is one of those versatile and helpful tools.
What Is Minitab?
Minitab is a statistical software product developed specifically for professionals who use Six Sigma techniques for process improvement. It has been around since the 1970s as a consistent and dependable data analysis tool.
This statistics package is optimal for use in business-focused operations. It offers users convenient ways to input statistical data, manipulate that data, identify patterns and trends and then analyze the data to solve real-world problems. It provides simplified data analysis ideal for use in statistical interpretation at the business level. When Minitab displays charts, patterns or trends, it also provides an accompanying analysis and interpretation to help users draw helpful, practical conclusions.
Essentially, Minitab provides a speedy and effective solution for the level of analysis most Six Sigma projects require, making problem-solving quick and easy. Many companies rely on Minitab for their work.
How Does Minitab Work?
Minitab contains various visual tools, including histograms, boxplots and scatterplots, that help professionals perform statistical analysis more efficiently and visualize what the data is telling them. It also enables users to calculate descriptive statistics for their data.
Minitab works through a series of windows users can use for different purposes. Some of those different types of windows include the following:
Session window: This essential window shows users the statistical results of their data analysis.
Worksheet window: The worksheet window looks something like a spreadsheet. It contains rows and columns designed for data entry and manipulation.
Graph window: The graph window shows users any graphs generated from their data.
Report window: The report window displays the statistical analysis results for interpretation and use.
The Minitab software product also has a Project Manager feature that allows users to switch effortlessly between charts, spreadsheets and statistical output.
Why Use Minitab?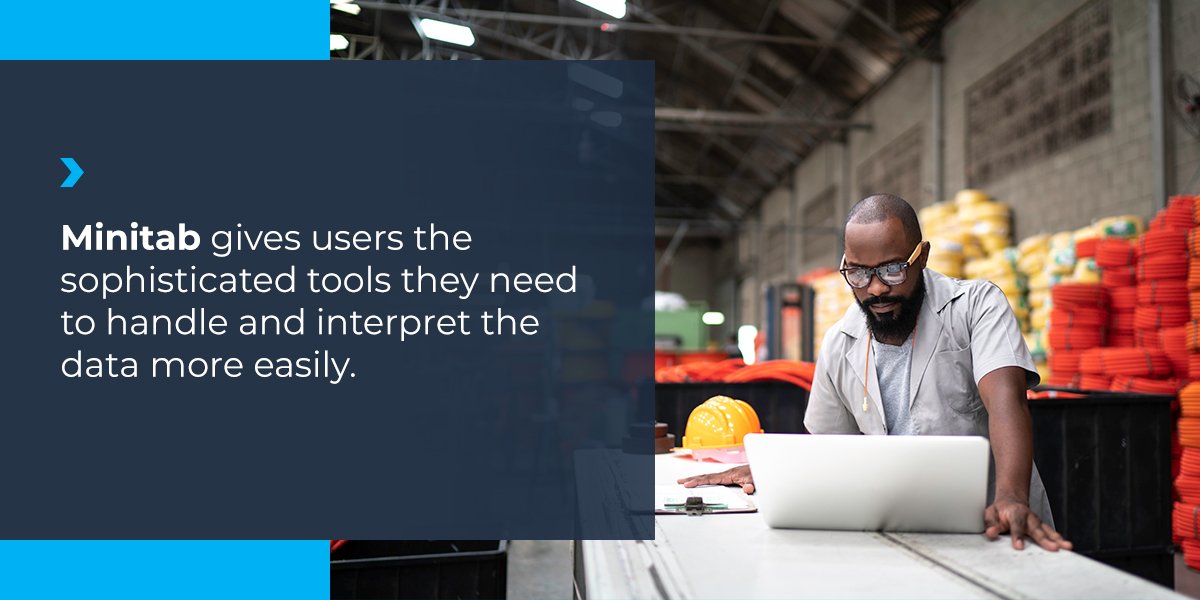 Most Six Sigma users have extensive training and experience in working with data. However, large and complicated data sets are often difficult to work with using basic software programs. Minitab gives users the sophisticated tools they need to handle and interpret the data more easily.
Minitab is particularly indispensable as a problem-solving tool. Of course, professionals who focus on Six Sigma techniques are already highly skilled in interpreting data. Still, software tools are often necessary to pinpoint the actual underlying cause of the challenges within a particular process. With Minitab, this problem-solving becomes a much faster and easier process. Companies can then use the analyzed data to affect real change within their organizations and see improved results.
Minitab offers many advantages compared with similar products like Microsoft Excel. Excel is a helpful tool for summarizing, sorting and analyzing data. However, in the context of statistical analysis and specific mathematical functions, Minitab is far more advanced and powerful. Its visualization capabilities alone provide an invaluable service for users who need a genuine understanding of what their data means and what trends it illustrates. As long as you input clean data, all you need to do is click your mouse a few times to generate elegant, informative charts you can start using to improve your processes right away.
How Is Minitab Related to Six Sigma?
Essentially, Minitab acts as a tool for applying Six Sigma principles and methodology. Six Sigma professionals must often accomplish the following objectives:
Identify pain points in established processes.
Use tools and data to develop effective solutions.
Implement the developed strategies.
Monitor the resulting changes and adjust if necessary.
Minitab assists with all these tasks. It simplifies the data input for statistical analysis so users can get to identifying their pain points quickly. It provides a comprehensive array of tools for manipulating the dataset and moving toward useful solutions. It then allows users to visualize patterns and trends easily so they can determine the underlying issues and apply their discoveries to the challenges they face with existing products and services.
Examples of Minitab's Uses Within the Industry
Minitab has numerous exciting applications in the manufacturing industry, from quality control and progress metrics to enhanced productivity and partnerships. Here are a few ways a company might use Minitab to improve its manufacturing processes through data analysis:
Raising quality standards: Using Minitab's statistical analysis capabilities, companies can identify quality lapses and improve overall quality standards. The art supply manufacturing company Crayola used Minitab's data analysis functions to identify the specific cause of an adhesion issue with its crayon labels. Once it determined that the adhesives failed to stick properly once they had dried, the company set up misters near the labeling machines in its facilities to ensure proper moisture levels and provide more durable crayon wrappings. This quick resolution was among a wave of Six Sigma projects that saved the company $1.5 million.
Using advanced analytics to set KPI benchmarks: Your manufacturing business needs dependable ways to determine useful key performance indicators (KPIs) and set realistic growth targets. Those targets might include better quality control processes, higher order volumes or greater efficiency in your operations. Minitab's statistical analysis capabilities allow you to visualize your performance, identify trends and determine reasonable benchmarks to help you reach specific goals.
Streamlining processes and reducing downtime: Effective data analysis and interpretation also help you make your operations smoother and more productive. For instance, the brewing company Anheuser-Busch used statistical analysis to meet high consumer demand through increased production. By quantifying and documenting specific task flows, the company could visualize which processes caused the most downtime and adjust its operations accordingly to boost productivity. It achieved a 34% reduction in downtime and lowered associated costs by $430,000.
Choosing the right partners: Data is invaluable even in potentially relationship-based decisions like which supplier you should choose for your materials. With statistical analysis, you can determine how many of a supplier's products meet your company's specifications and then use that knowledge to inform your long-term supplier partnerships.
Contact MANTEC for Process Improvement Training and Solutions
When your manufacturing company needs on-site manufacturing training and solutions to improve its processes, make MANTEC your trusted source. We have extensive experience with statistics education, Six Sigma training and Minitab training, and we are happy to work with you to implement Six Sigma process improvements for your facility. We offer competitive pricing, high client satisfaction rates and incredible return on investment, and our friendly professionals are always here to help walk you through processes and provide ongoing support.
Contact us via our website's "Let's Talk!" button today to get started with a quality trainer or learn more.