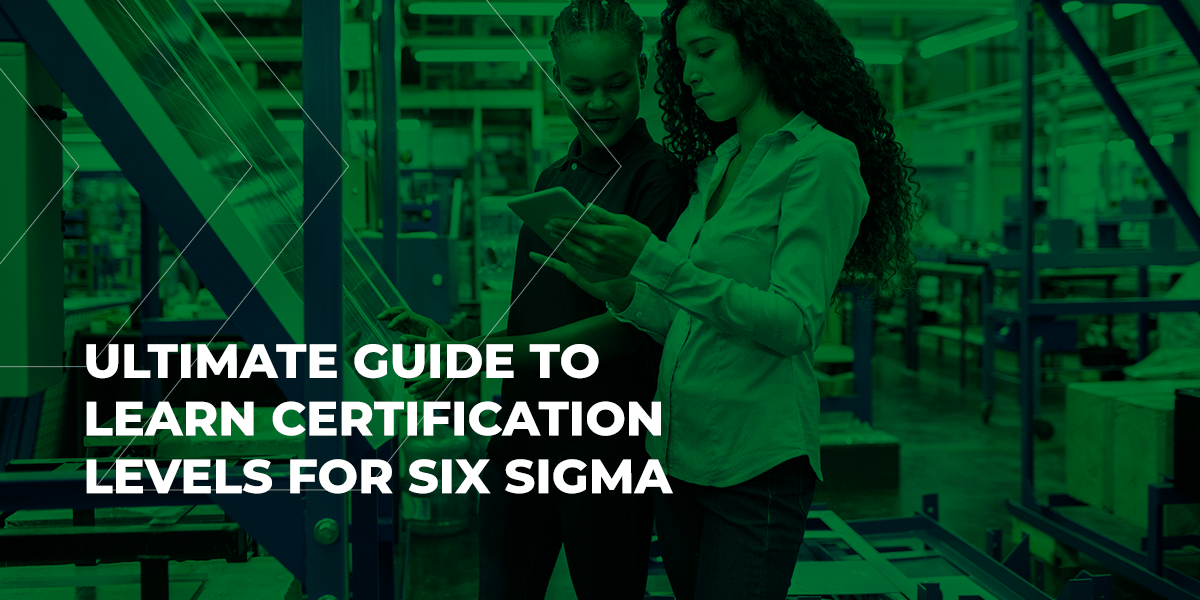 The Six Sigma program works to standardize a company's problem-solving approach and form the way it ideates process solutions. To accomplish this goal, the methodology uses five data-driven stages — Define, Measure, Analyze, Improve and Control (DMAIC). To complete the Six Sigma certification program, a professional must master each of these concepts.
Similar to how the LEAN manufacturing philosophy can help industry leaders improve their processes by minimizing unplanned downtime and maximizing equipment output, Six Sigma is a methodology that uses different techniques to assist manufacturers further by reducing labor costs, decreasing product defects, enhancing the customer experience and developing strong leaders.
To help you learn more about how Six Sigma could benefit your company, this article will explain the background of Six Sigma, the certification levels of the process, the Six Sigma belt order and the impact Six Sigma can have on manufacturing. Keep reading to find out more about the Six Sigma career certification paths and how the Six Sigma quality management method could help your operation minimize inefficiencies and defects.
Why Is the Concept Called Six Sigma?
The name Six Sigma comes from the bell curve used in statistics in which one Sigma symbolizes one standard deviation from the mean. When a process exhibits six sigmas — three below the mean and three above it — the defect rate is extremely low. Because Six Sigma uses statistics to measure the capability of a process, referring to the concept as Six Sigma suits its purposes.
The Six Sigma methodology was developed in the early 1980s by Bill Smith at Motorola to help measure the company's defects and improve overall quality. Since its inception, Six Sigma has been successfully implemented by General Electric (GE) to save money by reducing waste and improving product quality.
Due to the success GE enjoyed with Six Sigma, the process has become widely popular with other organizations. Numerous companies internationally rely on Six Sigma to improve their processes and incite positive changes in the workplace these days.
What Are the Six Sigma Belt Levels?
Below is a general description of each certification level a professional can achieve within the Six Sigma program:
White belt: If a worker has not gone through any formal training or certification program, they are a Six Sigma white belt. Although they have yet to be officially trained, white belts usually have a general awareness of the basic Six Sigma concepts.
Yellow belt: A Six Sigma yellow belt has been exposed to Six Sigma concepts that go a bit deeper than the fundamentals. A yellow belt may have gone to one- or two-day training sessions to develop the knowledge needed to work on projects as a fully contributing team member, guide smaller projects or directly assist managers of higher belt levels.
Green belt: To earn the green belt status, professionals must attend a complete course that outlines the Six Sigma methods of developing and improving processes, services and products. Through a Six Sigma green belt course, workers learn to apply problem-solving frameworks like DMAICand become better prepared for more involved roles within company projects.
Black belt: A black belt certification takes professionals to the next level by supplying them with advanced training on the skills needed to plan, explain and lead more complex projects or expansive organizational adaptations. Six Sigma black belt training goes over how to implement LEAN principles and supervise projects effectively. Once students have gained hands-on experience and demonstrated they can oversee a large project and manage a team in a real-world context to improve productivity, they will earn their black belt.
Master black belt: After becoming a seasoned black belt, leaders can advance further by becoming a master black belt. A Six Sigma master black belt has proved themselves to be an expert in taking a broad view of strategy across the company and coordinating teams for larger projects.
Champion: As an upper-level manager, a Six Sigma champion has a fuller grasp on the inner workings of Six Sigma processes and can lead LEAN strategy and deployment.
What Are the Roles of the Six Sigma Belts?
These are the various ways the Six Sigma belts interact with and support each other:
White belt: As the starting Six Sigma level, white belts can begin learning more about the process by participating in company projects and problem-solving tasks at a basic level of quality management and waste reduction.
Yellow belt: Yellow belts participate in projects as a team member and increase their skills by reviewing potential process improvements alongside higher belt levels.
Green belt: After achieving their green belt certification, professionals are ready to lead others and find more ways of using data to eliminate company waste. A Six Sigma green belt can lead teams of fellow green belts and assist black belt projects with data collection and analysis.
Black belt: In addition to leading larger problem-solving projects, a Six Sigma black belt trains and coaches project teams.
Master black belt: A master black belt helps develop key metrics to shape their company's strategic direction by acting as an internal consultant and technologist. Master black belts can also help train black belts and green belts.
Champion: Typically assisted by master black belts, champions focus on the organizational side of projects by tracking the progress of LEAN practice implementation and intervening when necessary. Executives can depend on Six Sigma champions to oversee processes in a way that removes defects, lowers waste and enables the company to succeed.
Can You Skip Belts in Six Sigma?
The Six Sigma belt levels are structured to indicate a professional's understanding of the depth and scope of LEAN Six Sigma tools and their applications. If a worker demonstrates advanced knowledge of Six Sigma techniques and can successfully implement the solutions with applications on industry case studies, they may be approved to skip a level.

How Long Does It Take to Learn Six Sigma?
Because the Six Sigma career certification paths are self-paced, the timing of the program may vary. In general, earning a Six Sigma black belt certification takes a few months. However, those with previous Six Sigma experience may complete the program faster than others. Certification is based on a professional's fundamental knowledge of Six Sigma procedures and is awarded whenever they pass the certification test.
Does Six Sigma Certification Increase Salary?
A Six Sigma certification demonstrates increased management skills, data understanding and leadership abilities, which ultimately qualifies professionals for a higher salary. Six Sigma black belts get paid an average of $127,000, which is nearly 34% more than Six Sigma green belts.
What's the Difference Between LEAN and Six Sigma?
Although LEAN and Six Sigma share the same goal of instituting efficient processes and eliminating waste, they take different approaches to accomplishing it. LEAN concentrates on analyzing workflow to find ways of reducing cycle time and eliminating waste, while Six Sigma focuses on achieving consistent results. LEAN and Six Sigma can be combined to create LEAN Six Sigma levels, which take the best of both programs to improve a company's processes from multiple angles.
Which Six Sigma Certification Is Most Recognized?
The most notable names in Six Sigma certification are the American Society for Quality (ASQ) and the International Association for Six Sigma Certification (IASSC). In general, the body of knowledge taught by both courses is nearly the same material. The main difference between the two programs is that the ASQ exam concludes with an open-book test, while IASSC administers a closed-book exam.
Although ASQ and IASSC are well-known national Six Sigma providers, many companies may benefit more from using a locally based Six Sigma program, such as MANTEC, which can tailor courses to manufacturing operations specific to the area.

Earn Your Six Sigma Certification With MANTEC
As the best resource center for South Central Pennsylvania manufacturing companies, MANTEC offers various top-notch Six Sigma programs, including thorough certification courses for yellow, green and black belts. The Six Sigma courses from MANTEC are especially effective for small and medium-sized Pennsylvania manufacturing operations because they work with regional partners to configure targeted statistical data analysis tools and process improvements.
To get the most out of your Six Sigma certification program in Pennsylvania, contact MANTEC today for a list of course schedules.