One dictionary definition of efficiency is "the ability to accomplish something with the least possible wasted time and effort." When applied to a manufacturing setting, efficiency refers to finding ways to produce goods faster, with the lowest consumption of resources. The most efficient manufacturers are often the most productive and profitable.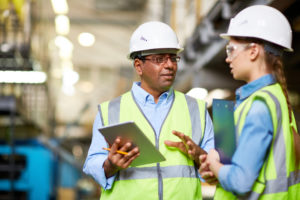 Steps for Increasing Manufacturing Efficiency
There are several steps manufacturers can implement to become a more efficient, streamlined operation:
Strategic planning –

The strategic planning function entails creating a vision for your company that separates you from your competitors. By gaining an understanding of the "big picture," strategic planning helps you develop the innovative products, services and solutions your customers want and need to meet their business objectives.
Reviewing your current workflow –

Workflow review should be an ongoing process so you can identify areas that can reduce your operating efficiency. Your review should encompass your workforce, equipment, technology and methodologies and consider all tools and resources that are available to your company.
Updating business processes –

A workflow review can point out areas where you need to upgrade outdated or inefficient work processes. Your leadership team can also provide valuable input regarding the more efficient allocation of resources, procedural improvements, better budget management and more.
Enhancing employee training opportunities –

In an era where new technologies are emerging on almost a daily basis, effective workforce training is essential for ensuring your employees stay up-to-date and that they know how to harness the power of technology to the full advantage of your company.
Focusing on organization –

In too many cases, manufacturing inefficiencies are the product of poor organizational skills and practices. Ensuring that every area of your operation — from material handling and equipment maintenance to shipping procedures and document management protocols — are well-organized and running smoothly can result in a dramatic reduction in preventable waste.
Keeping it simple –

With all the advanced technology and resources that are available these days, there can be a temptation to try to incorporate more than you need into your manufacturing processes. Too much complexity can lead to confusion and inefficiency. Focusing on mastering simple techniques and applying them consistently will provide better long-term results.
Lean Manufacturing Training From MANTEC Will Improve Your Operating Efficiency
Many companies are turning to lean manufacturing, which is a systematic process for minimizing waste, without sacrificing productivity, to bolster operational efficiency. MANTEC offers comprehensive lean manufacturing certification programs in PA that will allow your team to master this innovative management philosophy and apply it effectively. We utilize the latest lean manufacturing resources to provide top-notch training that will have a positive impact on your small- or medium-sized company's bottom line.
Contact us to learn more about the benefits of lean manufacturing certification in PA.