Manufacturing operations are constantly striving to find ways to reduce costs and provide better service to their customers. And in a time where competition among manufacturers is fierce and every penny counts, the companies that can streamline their operating processes while still meeting the demands of their customers are the ones that will continue to thrive and prosper.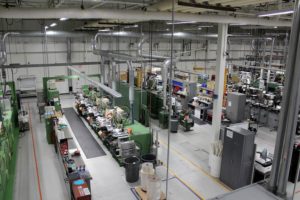 Many companies are choosing to integrate the LEAN Manufacturing concept into their operating processes. The LEAN Manufacturing philosophy focuses on continuous improvement and waste minimization within a production system. The origin of LEAN Manufacturing dates back to the early days of the Toyota Production System that was implemented by the Japanese automaker after World War II to develop low-cost improvements and stay competitive with American manufacturers. The LEAN Manufacturing movement started to gain traction in the U.S. during the 1990s and remains a popular management philosophy to this day.
LEAN Manufacturing focuses on eliminating waste:
Identify the Waste
Defects
Overproduction
Waiting
Non-utilized people skills
Transportation
Inventory
Motion
Extra processing
The five core principles of the LEAN Manufacturing philosophy include:
Specifying value as it applies to the customer
Identifying, creating and implementing value streams
Facilitating value flow from raw material to the end user
Pulling instead of pushing production
Constantly striving for perfection
What Are the Benefits of LEAN Manufacturing Implementation?
LEAN Manufacturing can provide the following benefits that are integral to success in the 21st-century manufacturing environment:
Improved customer service – Adhering to the LEAN Manufacturing philosophy will increase the likelihood that customers will receive the goods and services they need, when and where they need them. This results in increased customer satisfaction and retention.
Streamlined management structure – Because LEAN Manufacturing enables the completion of more work with fewer resources, it requires manufacturers to utilize less operating space and manpower and implement a relatively simple management structure.
Less waste – Waste results in excess cost and energy consumption and offers no value to the customer. By focusing on waste reduction, the LEAN Manufacturing process improves process speed and quality.
Better quality – The reduction in waste and associated costs, such as excess inventory and transportation, results in increased product value and fewer manufacturing defects.
Financial advantages – In summary, LEAN Manufacturing can have a positive impact on what matters most: the bottom line. Increased customer satisfaction results in more sales and repeat business. Improved quality means fewer returns and "re-dos." Less waste and a streamlined management structure minimize costs that detract from profitability.
How to Achieve a Lean Facility and Manufacturing Process
If you're looking to integrate LEAN Manufacturing into your facility and processes, you should begin by determining why you want to do so: are you looking to reduce lead times, improve quality, find ways to eliminate waste, provide better customer service or a combination of all these factors? You should then set specific goals to address each area. Comprehensive LEAN Manufacturing training is highly recommended — especially if you are unfamiliar with the process.
MANTEC: Your Source for the Best LEAN Manufacturing Training in PA
York, PA-based MANTEC offers cost-effective LEAN Manufacturing certification programs to small and mid-sized companies in South Central PA. We can also provide training that can lead to Six Sigma certification. The MANTEC staff consists of knowledgeable manufacturing professionals who bring a wealth of real-world experience to the instructional process. You'll have access to valuable LEAN Manufacturing training resources that will allow you and your team to achieve your learning objectives.
Contact us to learn more about LEAN Manufacturing certification training today.