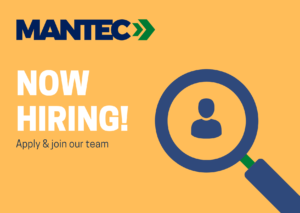 Do you have a continuous improvement mindset? Can you envision the factory of the future with embedded lean management systems that measure and deliver consistent operational results? Do you have the ability to get lean data-based thinking into others? You can stop searching if you are up to the challenge of helping our manufacturing clients embrace Process Improvement methodologies!
We've been providing manufacturers with professional consulting services, connections to valuable business resources, and public/private training and educational programs for more than 30 years in South Central PA. We focus on improving profitability, accelerating innovation, and driving operational excellence leading to millions of dollars of economic impact for the communities we serve, live, and work.
In this position to help MANTEC clients better understand the constantly-changing lean enterprise landscape, you will create, deliver, and/or oversee the delivery of lean, six-sigma, or any Process-Improvement-related consulting projects. In addition to identifying and engaging continuous improvement experts, resources, and consulting partners, you will lead our firm in the development of strategy in this area with increasing demand for consulting services.  Your specialized knowledge will be especially useful as you serve as a technical resource for internal staff and help our clients to understand their continuous improvement readiness and embrace Lean & Six Sigma models to solve complex problems. Activities including business development/sales, prospecting, leveraging networks/relationships, trade/professional association membership, and social media networking are necessary components to be successful in meeting goals.
Applicants will have earned a 4-year college/university degree with a focus on Engineering (Electrical, Electronic, Mechanical, or Manufacturing) being ideal. A minimum of five (5) years of Lean Operating System or Six Sigma deployment experience with 1-3 years of prior experience in a Consultative-Sales or Technical-Sales role being highly desired. Master Black Belt/Lean Certification is strongly preferred. Knowledge of and abilities to create and execute vision/strategy that enhances current manufacturing processes for higher efficiency and increased global competitiveness are necessary.
Our high-performance culture drives our passion for excellence and is evident in our business values and customer experiences! Don't miss this chance to be part of a team that is passionate about providing high-impact outcomes for our clients. Learn more about our resources at, www.mantec.org.
Be part of a team that is making a BIG impact in Pennsylvania and beyond. We are an affiliate of Pennsylvania's Manufacturing PA, Industrial Resource Network and the National Manufacturing Extension Partnership Network.
Apply to:
Attn: Human Resources
600 North Hartley Street
Suite #100
York, PA 17404
Email: kent@mantec.org